This guide lists the common use cases for cTrader deeplinks.
The common ways to share cTrader deeplinks include the following.
Deeplinks can be added to any clickable elements that you use to facilitate custom CTAs such as buttons in emails or landing pages.
Deeplinks can be shared directly on your social media or your messenger channels (such as Telegram groups)
Deeplinks can be used as hyperlinks in any text content that you are distributing, most notably blog posts or educational materials (e.g., structured courses)
Some of the common business cases of cTrader deeplinks include the following.
Incentivizing trading. Via deeplinks, you can send users directly to the 'New Order' screen in cTrader. Effective use of deeplinks should incentivize placing new orders.
Navigating traders to specific areas of cTrader. When using deeplinks, you can direct traders to 'Deposit', 'Withdrawal', and 'Bonuses' dialogs in cTrader. For anyone who communicates directly with traders, deeplinks are a valuable tool for encouraging certain actions.
Funneling traders to certain instruments. If you want traders to focus their attention on symbols that are about to experience some volatility (e.g., EURUSD in the wake of US CPI news), you can share deeplinks that lead to the 'Symbol Info' dialog or the 'Create New Order' screen for the chosen symbol.
Educating traders. Deeplinks can direct traders to useful cTrader features, most notably the 'Advanced Protection' dialog for a given position. Therefore, deeplinks can be used to alert traders to various cTrader tools and prompt autonomous learning.
Promoting yourself or other professional traders. Deeplinks can lead to certain cTrader Copy strategies or Investor Access 'snapshots' of one's trading performance. This makes them a perfect tool for promoting oneself or other professional traders.
Below, we provide several examples of how sharing deeplinks may look when using different channels.
When adding buttons to your email templates or your landing pages, you can use cTrader deeplinks to incentivize certain actions. See below for examples of links that lead to various areas of cTrader on click.
Open a New Chart for a Symbol
Open the 'Bonus' Tab
Open the 'Create Live Account' Dialog
https://ct.spotware.com/symbols/EURUSD/chart

https://ct.spotware.com/bonus

https://ct.spotware.com/accounts/create-live

Deeplinks can be freely shared on social media or when using various messengers such as Telegram. The below screenshots provide several examples of this.
"Manage Your Favorite Strategies"
"Make a Deposit"
"Promoting Yourself as a Trader"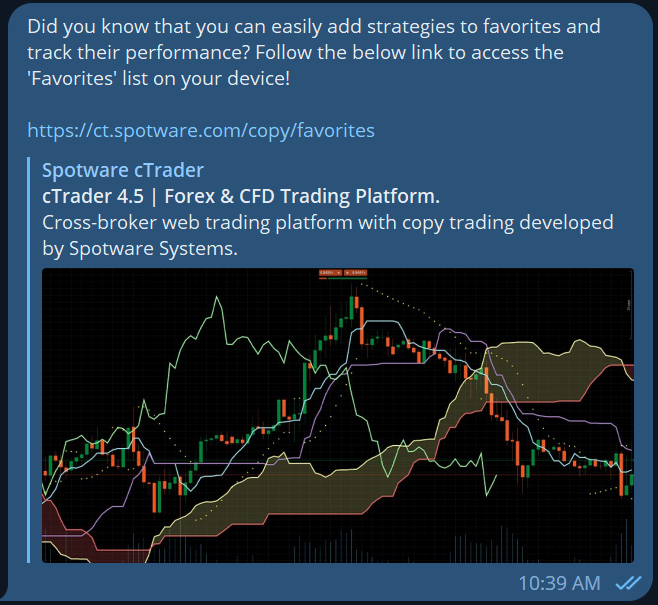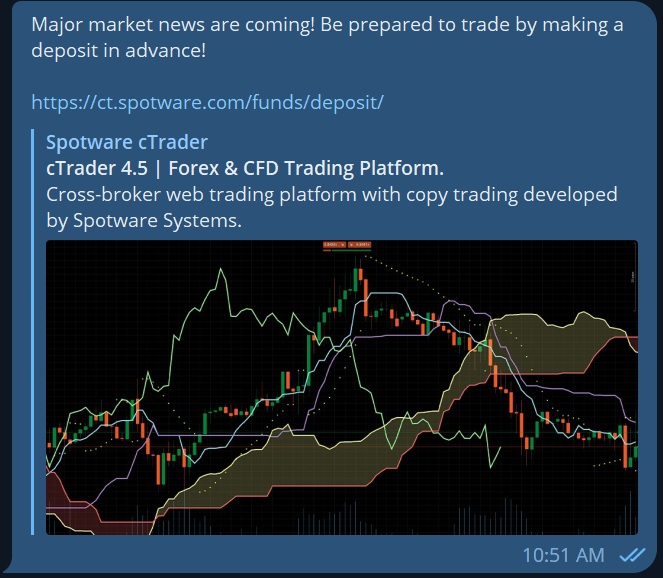 cTrader deeplinks can also be used as hyperlinks whenever you deem it suitable. Please see the tabs below for some valid examples of embedding deeplinks in text content.
Create Stop Order
Modify Pending Order
See All Symbols